FOR
UV-A ,
UV-B
FEATURES
• GaN UV Photodiode
• UV-A or UV-B models
• Visible & NIR blind
• UV Glass Window
• 10 Bit A/D Converter
• Serial Interface Output
• Optional Time Stamping

DESCRIPTION
The Model US family is a UV detector module that outputs raw digital conversions of light intensity. The user is then free to calibrate and process the data as required. The serial output can be read by PC's or serial data recorders. The user may modify the detection with filters or diffusers on the exterior, as only the photodiode UV glass window is exposed.
INFORMATION FOR PROPOSALS
APPLICATIONS
• UV power measurement
• Fixed constant monitoring
• Sun dosimeters
• Epoxy Curing, UV Lamps
• Environmental Remote Logging
MODEL US1 UV-A SPECTRAL RESPONSE
MODEL US2 UV-B SPECTRAL RESPONSE
Model US family is based on
Advanced Photonix, Inc™
UV Enhanced GaN Detectors
Datalogging using Photologic Ltd.
Model TG
serial recorder.
Model US may be used with USB Adapters.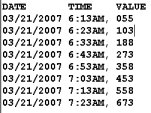 Output is viewable in text format and is
spreadsheet
compatible.
Values range from 0 - 1,000
Serial Data Output Of Model US


This is proposal product information. Product availability is "Request For Quote" status only.