• Printer Capture Recording Devices
Dot matrix printer alternatives. Replace your dot matrix
printer with print capture devices. Print to PC, print to
Android device.

• Android Peripheral Sensor Hardware Design

• Printer Interface Adapters

• Serial FIFO Buffer

• Serial Data Recorder
• 8 Channel Optical Isolator For RS232 Serial
• UV Detector With Serial Interface


• Wireless Thermochron Reader for Android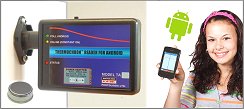 • Martian Keyboard


Works beside a normal Earthling Keyboard.
For: August 12, 2020
Please feel free to acquire equipment during these trying times. Our office
continues to ship daily to USA and global sites.
Our equipment is readily available so you can work on print capture projects. We have been shipping by UPS Courier Express, (rather than mail post).


             PHOTOLOGIC LTD.
         

         Photologic Ltd. manufactures interface adapters for printers and 
         instrumentation.  We have 19 years experience designing and supplying
         data interfaces for printers as fast as 90 pages/minute.


         

        We are located in Cobourg, Ontario   - a three hour drive from Niagara Falls, U.S.A.
         
                                                           King St.,  Cobourg, Ontario
     
       
        Rick Hoffman, Technical Specialist, will be happy
        to answer any inquiries that you may have.









         Photologic Ltd.  has customers worldwide, and
         we ship daily to the U.S. and international
         destinations using UPS Overnight Courier.
                 
        PHOTOLOGIC LTD.
        Federal Building
        39 Queen St., Suite 214
        Cobourg,  Ontario
        Canada    K9A-1M8      TEL: (905) 377-8915    email   rick@photologic.ca